Come and enjoy the music with your favorite local and international artists in this biggest three-day music-themed festival. iPrima Media and Village Sound System are organizing the Neon Borneo Festival, which will be held on 07-09 October 2022 at Coco Cabana, Miri, Sarawak. The event will start from 3.30 pm onwards. 
Don't Miss Out on Your Favourite DJs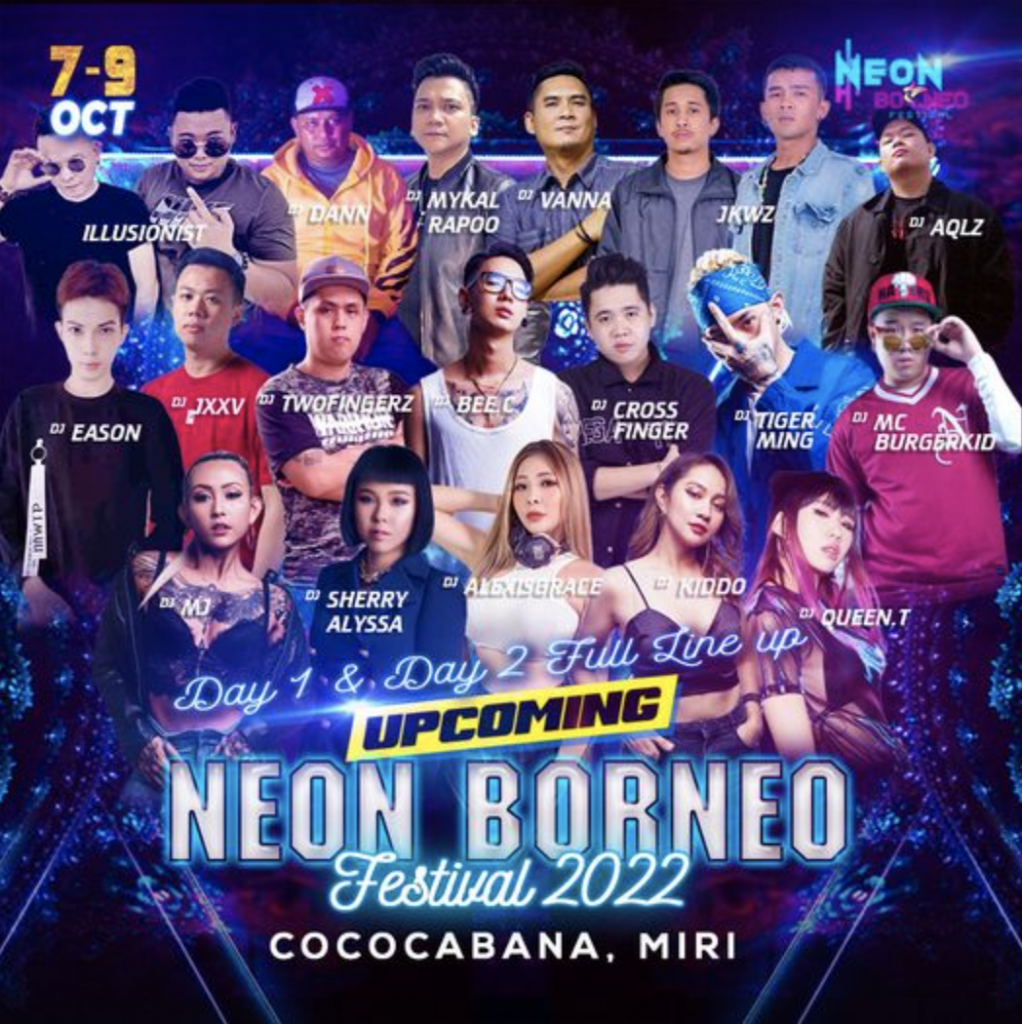 The DJs play an important role in the event. You wouldn't want to miss enjoying the music with your favorite DJs. So who's coming to Miri City to join us at the event? 
Bee C: Bee Chew started pursuing his deejay career in 2010. His passion and persistence have made built up his skills today! You will be high with his music. 
Tiger Ming: Malaysian-based DJ. You won't want to miss his show if you love aggressive heavy sounds. He has performed around Asia, such as in Bangkok and China. 
Queen T: Formerly known as DJ Tiana. She is one of the most demanded female DJ in Malaysia. Queen T is known for her fast mix and open format mix.
DjCrossFinger: Formerly known as C.K., he has been influenced by many genres of music from the early90'ss till the present. CrossFinger plays a wide range of Hip-Hop, RnB, K-Pop, Dirty Dutch, commercial Top40, Trap, and electronic dance music (EDM).
Alexis Grace: If you are a fan of the EDM scene, you would be familiar with Alexis Grace. Alexis Grace was namedMalaysia'ss #1 Female DJ in 2017!
Other DJs include DJ KIDDO, DJ Melissa-Jo, DJ Sherry Alyssa, DJ Sherry Alyssa, DJ, Twofingerz (Jenson Loh), DJ Eason Teo, DJ, JXXV, DJ Muhamma Aqilz, and many more. 
Moreover, a "mysterious" international superstar DJ will be coming to the festival. His/her music video peaked on the US Billboard Hot 100 Chart before and will make his/her appearance on Day 3. This is his/her 1st-time visit to Borneo, and that is the 1st stop in Miri, Sarawak!
Spice Up The Festival With MC Burgerkid
MC Burgerkid will be joining this biggest music-themed festival only in Sarawak. Burgerkid is experienced in bringing up the energy in any event. He is familiar with almost all genres present in the industry.
He is able to bring you to the next level in the event with his confidence and guts and control the crowd with his experience. He believed that energy level is the key to any show. 
Catch The Champion Of Miri Got Talent In Neon Borneo Festival
Miri Got Talent Champion, Christine Chua will be here to join you at Neon Burneo Festival. She is a Malaysian singer born in 1996 in Miri, Sarawak. She has a diploma in Mechanical Engineering and received the best academy awards. She has joined many competitions since she was 9 years old. Although she didn't get to win in the beginning, she enjoyed the singing process. Till now, she has joined over 100 competitions. She sings more in the soprano range. Instead of treating singing as a career, she considers it as an interest.  
Know More About The Ticket Price
If you miss out on the early bird ticket price. Here's the new ticket price for the three-day event
Day 1 – RM59
Day 2 – RM59
Day 3 – RM159
 Get your 3-day pass for the price of RM229 if you come for the whole event. The third-day ticket price is definitely more expensive. As we mentioned, there will be a "mysterious" international superstar DJ. It is definitely worth the price, and you wouldn't want to miss it. 
 Get more information about the event at the Neon Borneo Festival 2022 website or follow their Facebook page for the latest news.