Apple company used its WWDC22 opening keynote to give a preview of iOS 16, which is expected to be released later this year, as the latest mobile operating system brings more customization and greater sharing capabilities to the iPhone.
7 June, Twitter user @aaple_lab posted a rendering of the iOS 16 lock TAB interface, showing two shortcuts at the bottom that allow you to customize features, including low battery mode, camera, weather, health, flashlight, battery, and more.
It is believed that many iPhone users have made a lot of fun of the shortcut key of the flashlight on the lock screen interface. Due to the inability to change the shortcut key, it often happens that the flashlight will be on by mistake, which also has some netizens' gods comment of "trouser pocket light".
It is worth mentioning that the three sets of clocks and dates in different styles in the renderings should be related to the screen display of iPhone 14.
Separately, according to LeaksApplePro, iOS 16 has confirmed the removal of support for the iPhone 6s, iPhone 6s Plus and the first-generation iPhone SE. Those devices were shipped with iOS 9, which turned out to be Apple's longest-lived devices, all the way up to iOS 15.
The WWDC22 invitation poster features developer Memoji in five different colors. "One of them has a face with glasses. Hint of Apple glasses?" "Does five faces in different colors mean a colorful MacBook Air?"
IOS 16 will allow users to extract themes from photos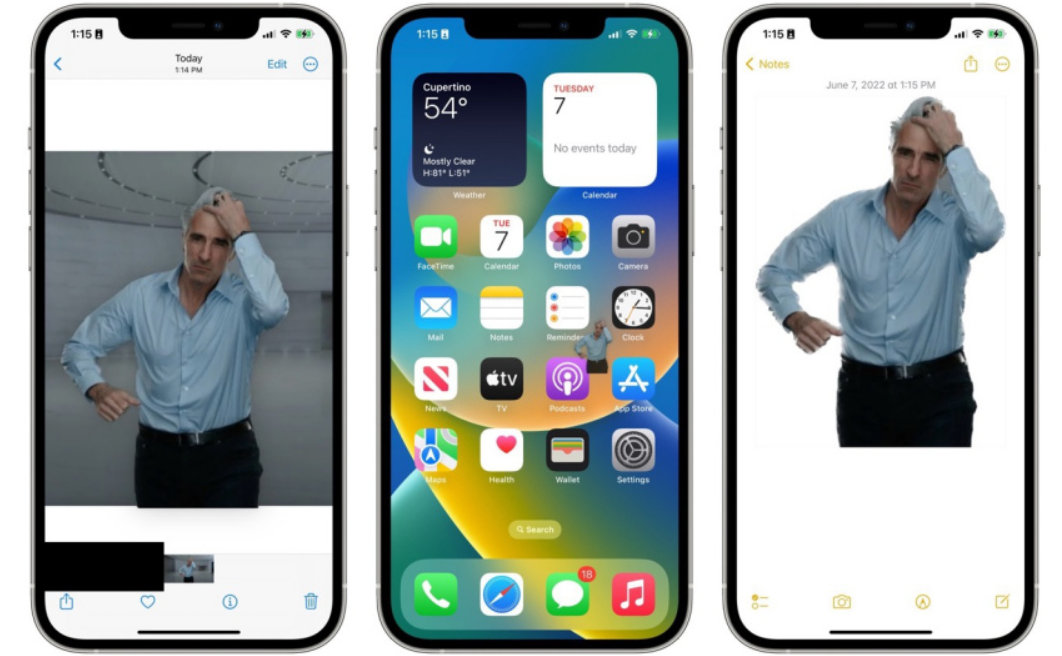 The feature works not only with photos, but even with screen shots and quick views. In the Photos app, just hold the photo for a few seconds until you see white light around the subject. You can then drag the subject out of the photo's application and into messages, mail, notes, and so on.
In Quick View and elsewhere in the system, simply hold down the photo and click "Copy Theme" from the action list. The subject of the image is then isolated and stored in the clipboard for use elsewhere in the system.
The feature also works with pause frames for videos in the Photos app. Because the feature requires advanced machine learning and image analysis, it only works on iPhone with A12 Bionic and later versions.