Marketing couple Huang Yuan Jie,34, and his wife Zhuo Xing Juan, 26, held a unique wedding ceremony yesterday morning. The two decided to return to their original place of acquaintance, which is located in the Choa Chu Kang columbarium Nirvana Memorial to take wedding photos.
The groom, Huang Yuan Jie, told Xin Ming Daily that they had known and dated for several years and had registered their marriage two years ago, but had not yet performed the traditional Chinese wedding ceremony. Will go to Nirvana Memorial, mainly because this is the place where they met, this is a fate. At that time, his wife to Nirvana Memorial for worship, and he is here to visit.
The Newlyweds put their hands together in worship of their ancestors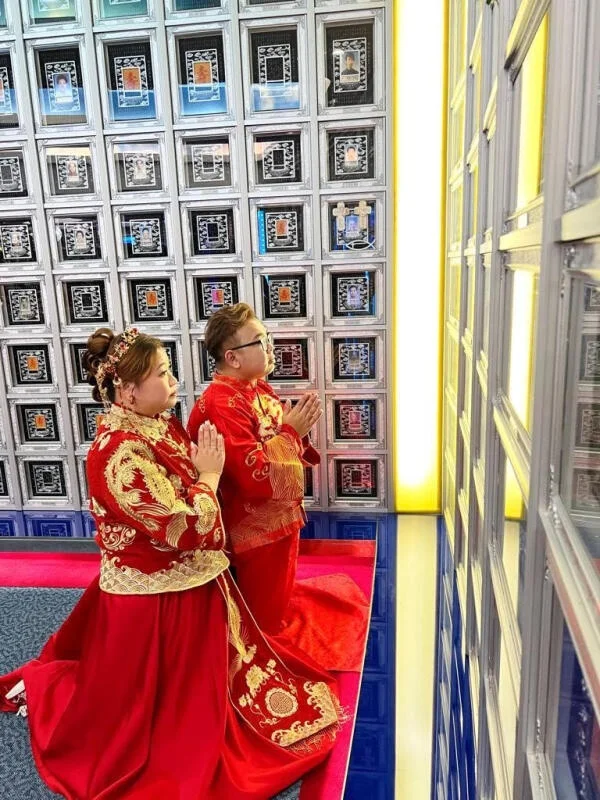 Mr. Wong said that it had always been his wish to have wedding photos taken with his wife at Nirvana Memorial in formal dress. Although his older relatives still thought that red and white matters should be separated and could not understand the young people's idea, he was glad that his decision was supported by his family.
"This is a taboo for Chinese. The relatives of the older generation will ask why they chose an auspicious day to get married and go to the mountain resort. But I'm glad my parents are open-minded. They think it's ok if it's young people, and my in-laws are supportive."
He added that visiting Nirvana Memorial is also the first time to inform relatives who have passed away. It is also a way to remember the source of water and remember the deceased loved ones in your heart.
Show up at the columbarium in a red Chinese dress
At about 10 am yesterday, the couple wore bright red Chinese dress, filled with happy smiles, with the blessings of their relatives and their brothers and sisters, completed an unforgettable wedding ceremony. In the evening, the couple set the table.
The head of the Nirvana Memorial pointed out that in recent years, the younger generation's thinking is more open, and will no longer be associated with death tower as a taboo.
'They take an open view of everything and consider it an individual request,' he said. 'Other couples do come to worship on their wedding day.'
"We've had two couples come to worship on their wedding day already this year. In the past, some people were still very shy about coming to the resort on the red event, but when we saw the couple in formal dress, it proved that many young people have changed their minds."
The person in charge also revealed that with the change of the times, now from time to time we see some families of the size of a family, and even bring a baby a few months old to perform ancestral worship activities.