As the pandemic slows and industries recover, neighboring Singapore, faced with a shortage of workers, is raising wages to attract Chinese workers to cross the barrier. Faced with competition from neighboring countries and a high exchange rate of RM3 to RM20, restaurant operators in Skudai have had to raise wages to cope with the "manpower shortage".
Skudai Urban Shopping center restaurant seeks staff to cope with shortage of staff.
Among them, Haidilao, a well-known multinational hot pot restaurant chain, posted a recruitment notice for its Skudai branch on the "Face book" page, and the high salary offer caused hot discussion.
According to the recruitment, front desk staff at the Skudai branch are paid BETWEEN RM3,300 (eight hours) and RM4,300 (10 hours), while kitchen staff are paid between RM3,000 (eight hours) and RM3,900 (10 hours), with other benefits including overtime, free accommodation or accommodation allowance and staff meals.
According to employees interviewed by The Eastern Daily News, the company offers higher wages at its New Hill branch than in the capital Kuala Lumpur because it is the only way to recruit staff.
Sources admitted that due to the geographical location of Skudai, it had to offer higher salaries to attract employees in the face of competition from Singapore's high exchange rate.
Sources said that after the opening of the Border between Malaysia and New Zealand, many restaurant workers in New Shan have adjusted their salaries. The company also recruited staff and adjusted the salaries of employees in its Skudai branch after the border was reopened.
"In the restaurant industry, if the salary in Singapore is 1,800 Singapore dollars, it is 5,400 RM. so most people choose to work in Singapore, which also causes the restaurant industry to face a very serious shortage of staff, especially after Malaysia-Singapore border reopened."
The company's recruitment advertisement to be published in early April, at that time for the terms of the front desk staff will pay between 2850 ringgit (8 hours) and 3850 ringgit (10 hours), the kitchen staff salary is 2550 ringgit (8 hours) to 3450 ringgit (10 hours), and at present the company employee's salary for new mountain 450 ringgit.
On the other hand, the reporter visited shopping malls in Skudai city and found that almost every restaurant posted job advertisements, among which Ding Tai Fung in Skudai City middle Square is offering a starting salary of RM2,800 for its waiters.
Ho Seng Kee Wantan mee, located in the middle square of Skudai City, also faces the problem of manpower shortage. He Wei Yuan (42), the head of the restaurant, admitted in an interview that the catering industry had to offer higher salaries than the market to hire employees and adjust employee benefits to attract employees.
"As far as I know, the catering industry wages in Skudai are higher than those in Kuala Lumpur. As Skudai faces competition from Singapore in terms of manpower, many experienced and skilled employees choose to cross the embankment to earn Singapore dollars, which is human nature. Prices are high in Skudai, and they need to earn more money to support their families. If they don't earn enough money, they can't survive."
Before the outbreak, waiters at the store were paid about RM1,800 to RM2,000, but now they are paid RM2,500, he said.
Ah Meng Kueytiao, located in the Skudai district, has also adjusted its employees' salaries to cope with a shortage of staff after the outbreak.
Shop owner Dou Zhiming (56) revealed that before the outbreak, staff's salary was between RM1,800 and RM2,300, which has been raised to RM2,300 and RM2,600. "Other benefits include provident fund, social insurance, etc.,
"We also raise salaries annually, with several senior staff earning above RM3,000."
He Weiyuan, who sells wantan noodles in Ho Seng Kee, said the only way to attract people is to improve employee benefits and pay more in the face of competition from Singapore.
He said the store has adopted an ordering system and robot food deliverers to reduce staff's work pressure.
"We can't say we can't hire people and not want to raise wages and improve benefits. I'm willing to offer a higher salary for the right person."
Since many of its customers are Singaporeans, he says, most of the staff they hire are local Chinese. Faced with a staff shortage, he is now hiring Malaysian Diploma of Education (SPM) leavers to fill the gaps.
Looking for a job? Don't want to get paid to do dead work every day?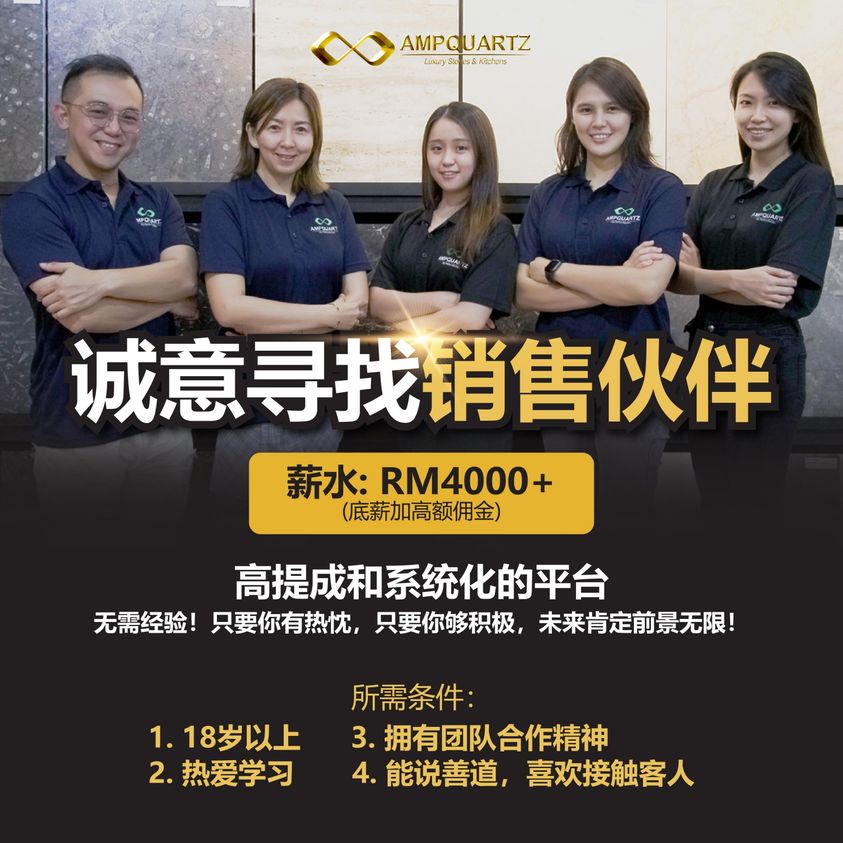 Ampquartz offers a high commission and systematic development platform!
If you want to find a job, you have to pay in proportion to your efforts! It's not just proportional over here, it's positive positive proportional!
Ampquartz sincerely looking for positive sales partners their sales sister personally Guide you! Don't worry, she can talk, laugh, and play
If you just want to play it safe, don't come! But if you are proactive and most importantly have the right attitude, welcome!!