Tesla's Bot made its debut in China on Saturday.
Tesla, which has been exhibiting at the 2022 China International Import Expo in Shanghai for five years, not only presented the entire S3XY lineup at its China booth for the first time, but also displayed its latest AI intelligence achievements and sustainable energy architecture
Tesla Bot Steals The Spotlight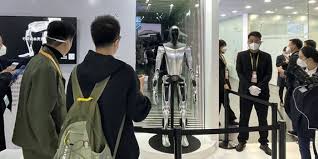 The Tesla bot model steals the spotlight in the exhibition.
Tesla chief executive Musk described the goal of developing artificial intelligence so that people can leave simple repetitive tasks to robots to complete and put their energy into more creative work. Tesla bot has complete walking, up the stairs, squatting, picking up objects, and other actions. It can withstand about half a ton of heavy objects but can also grasp light objects, operate mechanical devices, and perform other high-precision actions.