Ahmad Fadhli Shaari, the leader of PAS Youth, urged the government to forbid such activities because they encourage hedonism and go against traditional Muslim values in Malaysia.
"On behalf of PAS Youth, I sincerely hope that the government, through the relevant ministers, will consider cancelling and withdrawing permission for these concerts to take place.
He stated in a Facebook post on Thursday that "the timing is inappropriate and the values they bring are opposed to Islam as a federal religion" (Aug 25).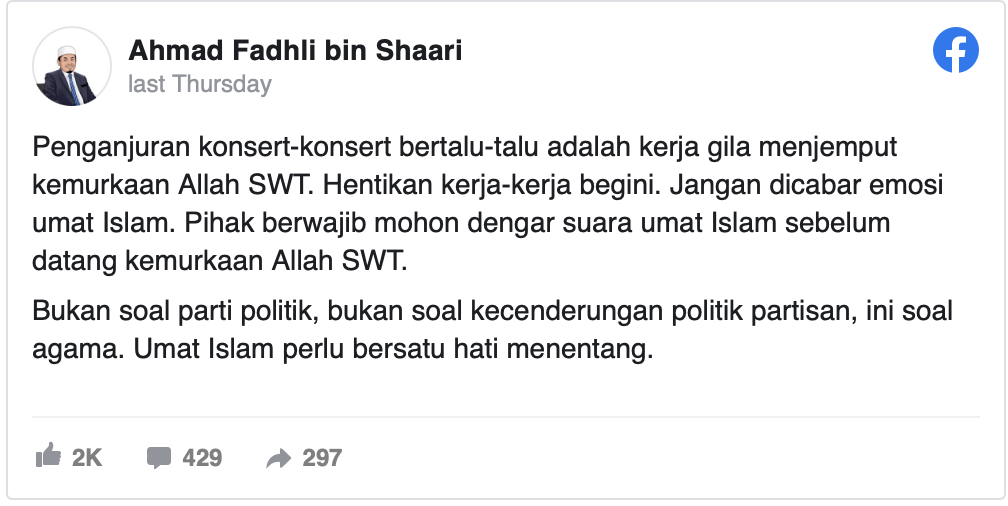 Additionally, Ahmad Fadhli stated that PAS may stage nationwide demonstrations.
If these are not cancelled, our party won't think twice about inciting opposition across the nation.
"We urge NGOs and members of the public to take action to stop the growth of hedonistic culture in society," he said.
Fadhli, a Pasir Mas MP, issued a similar appeal last Friday (Aug. 19), urging Muslims to resist such concerts because they "only bring Allah's vengeance."
A day after Billie Eilish, an American singer-songwriter, performed in Kuala Lumpur on August 18, he shared this on Facebook.
The Islamist party has a history of opposing foreign singers' performances that are held in the nation.
In 2016, PAS demanded the cancellation of a Selena Gomez concert because they claimed it encouraged "western culture and hedonism." As planned, the concert was performed.
K-pop group (G)I-Dle will perform on September 9, Indonesian band Dewa19 will perform on September 10, and Good Vibes will perform on September 23 and 24.
Justin Bieber, Calum Scott, Michael Learns to Rock, and Hong Kong artist Joey Yung are scheduled to perform in Malaysia in October and November, respectively.