After months of keeping his partial facial paralysis diagnosis a secret, Justin Bieber announced Tuesday (Sept. 6) that he is once more taking a sabbatical from touring.
Due to Ramsay Hunt Syndrome, a shingles complication, the 28-year-old megastar had to postpone the North American leg of his Justice tour in June.
With six live performances in Europe and this weekend's Rock in Rio festival in Brazil, Bieber has resumed touring.
However, he claimed on Tuesday that his return to the stage had been too soon.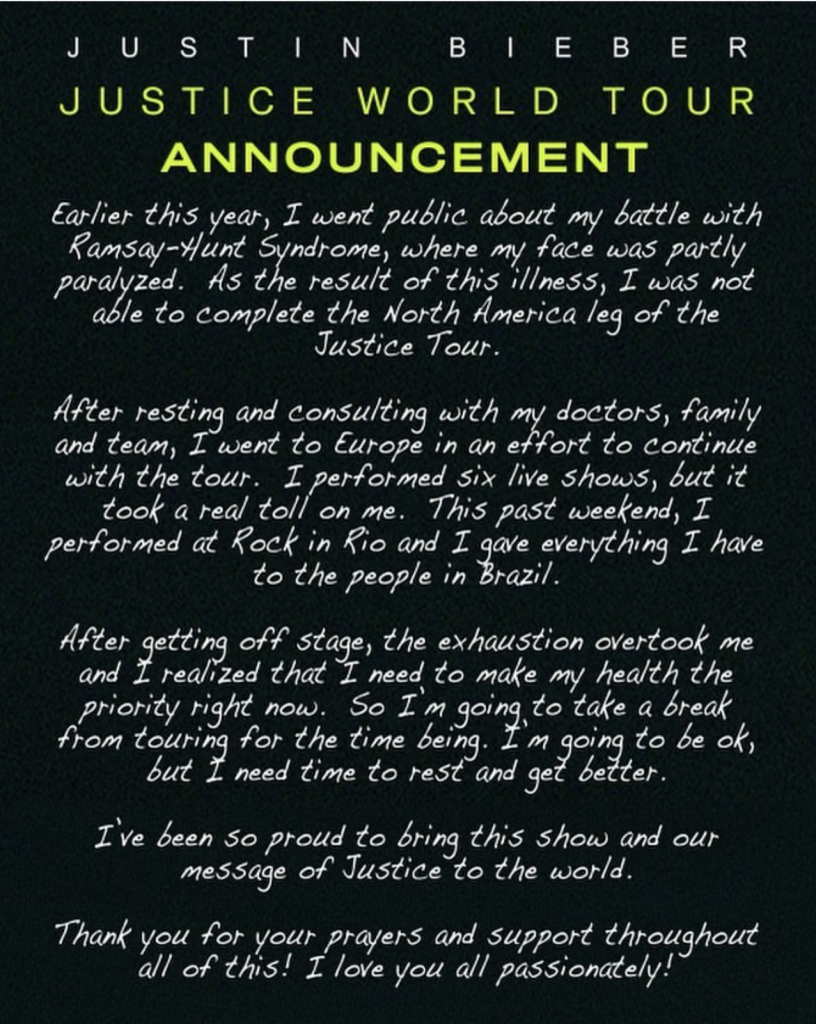 "I gave everything I had to the Brazilian people this past weekend when I played at Rock in Rio. I was so worn out after leaving the stage that I immediately realised I needed to put my health first "Justin added.
The Peaches singer continued, "So I'm going to take a hiatus from touring for the time being."
"I'll be fine, but I need some downtime to recover. Introducing our show and our message of justice to the globe has made me incredibly proud."
A painful rash can develop around the lips or ears due to the unusual neurological condition known as Ramsay Hunt Syndrome, which can also inflame and paralyse the facial nerve. It can result in hearing loss in addition to facial paralysis.
Through March 2023, Justin Bieber had a number of shows planned all across the world.
The celebrity didn't provide an anticipated recovery time frame or say whether the Justice tour would ever continue.
Even before the singer's health started to deteriorate, Covid-19 compelled two postponements. – AFP