FIFA 23 released its top 23 player. According to the FIFA 23 Player Ratings, there are 5 players ranked with the same 91 marks, which is the highest player rating for FIFA 23. These 5 highest-ranked players are Lionel Messi, Karim Benzema, Robert Lewandowski, Kylian Mbappe and Kevin De Bruyne.
This is the first time in the history of Ultimate Team that five players shared the highest player rating. This is also the first time that Lionel Messi is not the sole top-ranking player for the game.
The players rated with 90 marks are Mohamed Salah, Virgil van Dijk, Thibaut Courtois, Manuel Neuer, and Cristiano Ronaldo. For Cristiano Ronaldo, this is his lowest rating since FIFA 10 and 11, where he was rated at 89.
FIFA 23 released its top 23 player list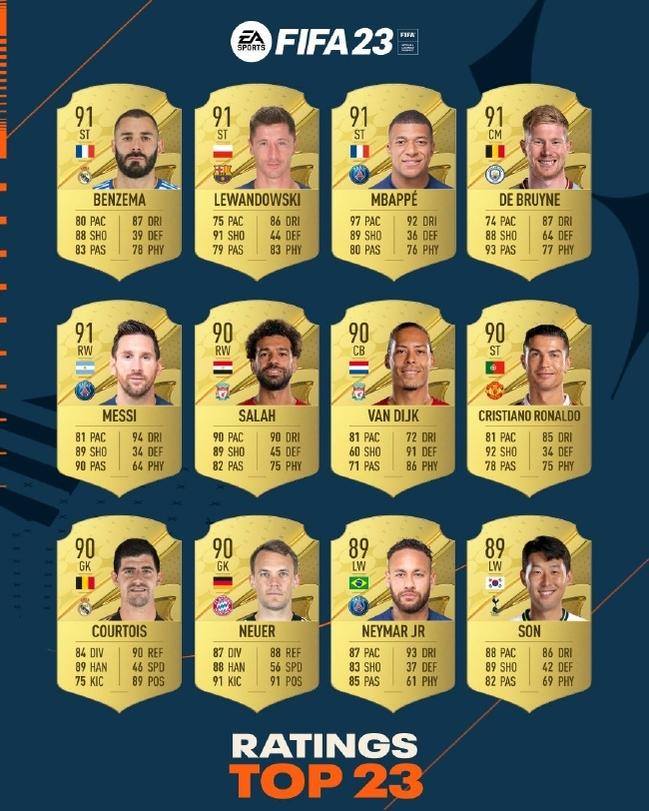 There are many 89-rated players for FIFA23. Premier League players in this category include Son Heung-min, Harry Kane, Casemiro, Ederson, Alisson, and N'Golo Kante. Jan Oblak is the only player from La Liga that is at 89. Erling Haaland, Toni Kroos, and Marquinhos are given the 88-rated card and close the top 23 players for FIFA 23.
The following are the top 23 players in FIFA 23 Ultimate Team. Do you agree with the rankings?
T
op 23 players in FIFA 23 Ultimate Team
Kylian Mbappe – 91
Karim Benzema – 91
Robert Lewandowski – 91
Kevin De Bruyne – 91
Lionel Messi – 91
Mohamed Salah – 90
Virgil van Dijk – 90
Cristiano Ronaldo – 90
Thibaut Courtois – 90
Manuel Neuer – 90
Neymar – 89
Son Heung-min – 89
Sadio Mane – 89
Joshua Kimmich – 89
Casemiro – 89
Alisson – 89
Harry Kane – 89
Ederson – 89
N'Golo Kante – 89
Jan Oblak – 89
Erling Haaland – 88
Toni Kroos – 88
Marquinhos – 88